About Us
We are Sunny, Jess, Bella & Walter and together we are Deep Blue Photography! Yes we are married, and yes we work together.  On average we spend 23 hours every day within 100 feet of each other. So far no bodily harm has befallen either of us!
We have photographed over 160 weddings together during the last 7 years.  These have been throughout Alberta, BC, Saskatchewan, Ontario, in Mexico, Jamaica, Costa Rica, and Antigua.
Together, we have both won numerous Canadian and International awards from professional photography associations. Additionally, we have been published both in print and online.  You can view our award winning images here. We believe that the quality of our work speaks for itself. However, it is always a pleasure having other wedding photographers recognize and award our work.
In 2010 our lives were forever changed when we adopted Bella. She is a scruffy, happy hound from Bassano who instantly became the love of our life! We are both pretty crazy about dogs, and Bella has made our lives so much more interesting and enjoyable. Our love for Bella and our love for dogs also spurred us to create Happy Hounds Photography a pet photography business here in Edmonton.
In May 2018 we added to our family by adopting Walter. He is an 8 year old Labradoodle whose previous family decided they no longer wanted him. They took him to the vet and tried to have him killed.  Luckily Walter's vet refused to put him down, and instead had the family surrender Walter.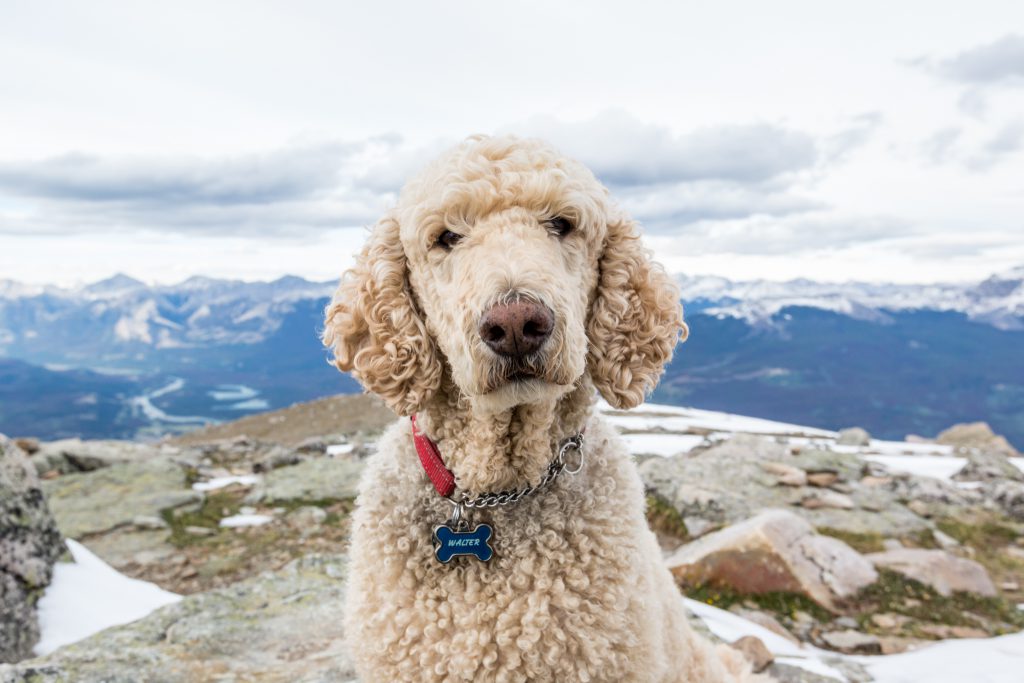 We are super happy that he has come to us and that we can give him a good home.
In addition to our love for Bella & Walter, we also love to travel. One of our favourite things to do each year is drive across this great country of ours in search of adventure. In 2011 we spent an entire month with Bella driving and camping our way from Edmonton to Cape Breton. We have driven to Toronto 5 times, Vancouver island over a dozen times, and in 2015 we made a trip up to the Yukon for the Summer Solstice. In addition to our travels across Canada, we have travelled together to New Zealand, Scotland, England, Iceland, Switzerland, France, Tahiti, throughout the USA and the Caribbean.
When it is too cold to camp in the mountains, go backpacking, drive across the country, or photograph weddings in Edmonton, you can usually find us cheering on the Oilers at Rogers Place. Sunny is the truest Edmonton Oilers fan you will ever meet and he has made a dedicated fan out of the Southern Albertan Jess!
In 2013 we travelled to Tahiti with some of our closest friends and family for our own wedding:
 Deep Blue Photography: Wedding Photographers Edmonton