Outdoor Edmonton Wedding Venues
Outdoor Edmonton Wedding Venues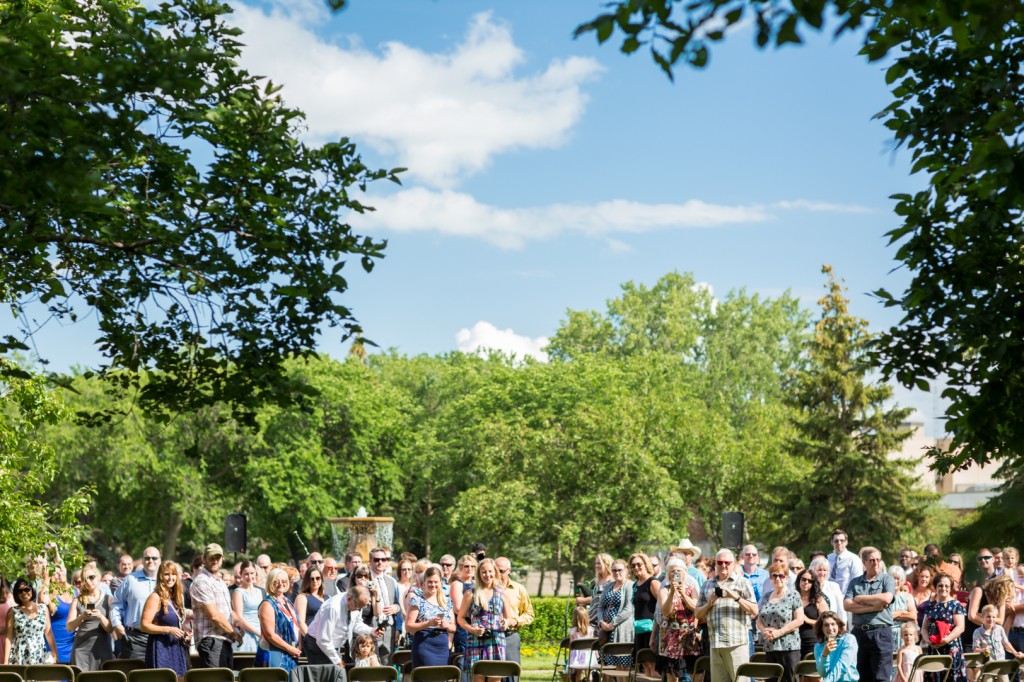 Typically speaking it is very difficult in Edmonton to plan an outdoor wedding reception. We have snow on the ground for 6 months out of the year, and epic thunderstorms ready to rock the city any given night in the summer. We have photographed a number of outdoor wedding receptions, but they tend to be on estates or acreages of family members, typically with rental tents to provide shelter.
Planning an outdoor wedding ceremony in Edmonton is a much less daunting task. Ceremonies tend to take place in the afternoon (when there is less chance of thunderstorms) and are usually capped at 45 minutes, so there is less worry about inclement weather negatively affecting the day.
Below, you will find a list of outdoor Edmonton wedding venues that are great for wedding ceremonies.  This list is not exhaustive and we will be adding to it as we encounter more venues, but it may provide you with a starting place for planning your wedding ceremony.
To read more about planning a wedding in Edmonton or the surrounding area and finding the perfect Edmonton wedding venue for your big day, please check out our articles on Choosing The Perfect Wedding Venue and Indoor Edmonton Wedding Venues.
If you are looking for a wedding photographer to capture your big day, please feel free to contact us!
Name of venue   : The Fairmont Hotel Macdonald
Website              : http://www.fairmont.com/macdonald-edmonton/meetings-weddings/weddings/
Phone number   : 780.429.6416
E-mail address   :mac.catering@fairmont.com
Capacity           : Outdoor gazebo
Pictures            : Fairmont Hotel  Macdonald Wedding
Name of venue   : Dick Mather Gazebo
Website              : https://www.edmonton.ca/activities_parks_recreation/gazebos.aspx
Phone number   : 780.423.7428
E-mail address   : picnicbookings@edmonton.ca
Capacity               : 50
Name of venue   : Dr. Wilbert McIntyre Gazebo
Website              : https://www.edmonton.ca/activities_parks_recreation/gazebos.aspx
Phone number   : 780.423.7428
E-mail address   : picnicbookings@edmonton.ca
Capacity             : 50
Name of venue   : Grant Notley Gazebo
Website              : https://www.edmonton.ca/activities_parks_recreation/gazebos.aspx
Phone number   : 780.423.7428
E-mail address   : picnicbookings@edmonton.ca
Capacity             : 50
Name of venue   : Chinese Garden Gazebo – CLOSED UNTIL 2021
Website              : https://www.edmonton.ca/activities_parks_recreation/gazebos.aspx
Phone number   : 780.944.7740
E-mail address   : civic.events@edmonton.ca
Capacity             : 50
Name of venue   : Art Gallery of Alberta
Website             : http://www.youraga.ca/facility-rental
Phone number   : 708.392.2505
E-mail address   : N/A
Capacity            : 60
Name of venue   : The Rutherford House
Website             : http://www.rutherfordhouse.ca/bookings/#private-bookings
Phone number   : N/A
E-mail address   : info@rutherfordhouse.ca
Capacity           : 75
Name of venue   : The Bennett Centre
Website               : http://bennettcentre.epsb.ca/
Phone number     : 780.468.1439
E-mail address     : bennett.centre@epsb.ca
Capacity              : 85
Name of venue   : Memorial Garden at Fort Edmonton Park
Website              : https://www.fortedmontonpark.ca/
Phone number   : N/A
E-mail address   : N/A
Capacity              : 100
Name of venue : Fort Edmonton Park
Website            : https://www.fortedmontonpark.ca/facility-rentals/historic-building-rentals/blatchford-field-air-hangar/
Phone number : N/A
E-mail address : N/A
Capacity           : 50 – 600 in various venues
Pictures            : Fort Edmonton Park Wedding & Winter Wedding Fort Edmonton Park
Name of venue   : Prairie Gardens
Website              : https://prairiegardens.org/farm-weddings/
Phone number   : 780.921.2272
E-mail address   : info@prairiegardens.org
Capacity             : 100
Name of venue   : St. Albert Botanic Garden
Website             : https://www.stalbertbotanicpark.com/rentals/
Phone number   : 780.458.7163
E-mail address   : sabotpk@telus.net
Capacity             : 120
Name of venue : Highlands Golf Club
Website             : http://www.highlandsgolfclub.com/The_Clubhouse/Facilities_(1).aspx
Phone number : 780.474.4211 ext. 3
E-mail address : sam@highlandsgolfclub.com
Capacity          : 120
Name of venue   : Lions Garden
Website              : http://www.lionsgarden.ca/index.php/weddings-at-lions-garden/weddings-at-lions-garden
Phone number   : 780.662.0414
E-mail address   : info@lionsgarden.ca
Capacity                : 140
Pictures                 : Lions Garden Wedding
Name of venue   : Whitemud Creek Community Centre
Website             : http://whitemudcreek.ca/whitemud-creek-community-centre
Phone number   : N/A
E-mail address   : rentalagent@whitemudcreek.ca
Capacity             : 140
Name of venue   : Windermere Golf and Country Club
Website             : http://www.windermeregcc.com/MEMBERSHIP_(2).aspx
Phone number   : 780.988.5501
E-mail address   :amya@windermeregcc.com
Capacity           : 120 during the golf season
Name of venue   : Rainer Gardens
Website             : https://www.facebook.com/Rainer-Gardens-300438786678933/
Phone number   : 780.619.2223
E-mail address   : N/A
Capacity             : 150
Name of venue   : Northern Bear Golf Club
Website             : http://www.northernbeargolf.com/events/weddings-events/
Phone number   : 780.922.2327 ext. 205
E-mail address   : chef@northernbeargolf.com
Capacity            : 150
Name of venue   : Edmonton Country Club
Website               : https://www.edmontoncountryclub.com/CATERING_EVENTS.aspx
Phone number   : 780.487.1150
E-mail address   :events@edmontoncountryclub.com
Capacity             : 150
Name of venue   : Stony Plain Public Golf Course
Website              : http://www.stonyplain.com/Town-Hall/Departments/Community-and-Protective-Services/Sports-and-Recreation/Stony-Plain-Public-Golf-Course.htm
Phone number   : 780.963.2133
E-mail address   : info@stonyplain.com
Capacity            : 160
Name of venue   : Edmonton Oilfield Technical Society
Website             : http://www.edmonton-ots.com/
Phone number   : N/A
E-mail address   : N/A
Capacity             : 165
Name of venue   : The Ranch Golf and Country Club
Website               : http://www.theranchgolf.com/?/specialevents/weddings-and-celebrations/
Phone number   : 780.470.4700 ext. 301
E-mail address   : gm@theranchgolf.com
Capacity           : 170
Name of venue   : Royal Mayfair Golf Club
Website             : https://www.mayfair.ca/Events/Weddings.aspx
Phone number   : 780.391.8414
E-mail address   : cpelletier@mayfair.ca
Capacity               : 180
Name of venue   : Royal Glenora Club
Website            : https://www.royalglenora.com/
Phone number   : 780.482.0393
E-mail address   : cateringsales@royalglenora.com
Capacity             : 185
Name of venue   : The Lodge at Snow Valley
Website              : http://www.thelodgeatsnowvalley.ca/weddings.php
Phone number   : 780.809.2374
E-mail address   :gina@snowvalley.ca
Capacity            : 200
Pictures             : Snow Valley Wedding & Snow Valley Wedding Pictures
Name of venue   : Magrath Mansion
Website               : https://www.facebook.com/pg/Magrath-Mansion-116204188446663/about/?ref=page_internal
Phone number   : 780.619.2223
E-mail address   : N/A
Capacity                : 200
Name of venue   : Borden Park Bandshell
Website              :
Phone number   : 780.423.7428
E-mail address   : picnicbookings@edmonton.ca
Capacity             : 200
Name of venue   : Hastings Lake Gardens
Website              : http://www.hastingslakegardens.com/
Phone number   : 780.662.2494
E-mail address   : hastingslakegardens.@gmail.com
Capacity           : 200
Pictures            : Hastings Lake Gardens Wedding
Name of venue   : The Links at Spruce Grove
Website              : http://www.linksgolfcourse.com
Phone number   : 780.962.4653
E-mail address   : N/A
Capacity            : 200
Name of venue   : The Derrick Golf and Winter Club
Website              : https://www.derrickclub.com/Our-Club/Banquets-and-Catering.aspx
Phone number   : 780.437.8378
E-mail address   : catering@derrickclub.com
Capacity             : 220
Name of venue   : La Cité Francophone
Website              : https://www.lacitefranco.ca/
Phone number   : 780.463.1144
E-mail address   : lacite@lacitefranco.ca
Capacity            : 240
Pictures             : La Cite Francophone Wedding
Name of venue   : RedTail Landing Golf Club
Website              : http://www.redtaillanding.com/event-booking/
Phone number   : 780.890.7888
E-mail address   : Chef@RedTailLanding.com
Capacity            : 250
Name of venue   : Old Timers Cabin
Website: http       :http://oldtimerscabin.net/
Phone number     : 780.465.2139
E-mail address     : events@oldtimerscabin.net
Capacity               : 250
Pictures                : Old Timer's Cabin Wedding
Name of venue   : University of Alberta Botanic Garden – Temp. CLOSED (Previously called Devonian Botanic Gardens)
Website             : http://botanicgarden.ualberta.ca/
Phone number   : 780.987.3054 ext. 2223
E-mail address   : uabg.weddings@ualberta.ca
Capacity             : 250
Pictures              : Devonian Botanic Gardens Wedding
Name of venue   : Em-Te Town
Website             : http://www.emtetown.com/booking.htm
Phone number   : 780.388.2166
E-mail address   : emte@emtetown.com
Capacity             : 250
Name of venue   : ConBoland Garden
Website             : http://www.conboland.com/content/rental/price.html
Phone number   : 708.429.1800
E-mail address   : N/A
Capacity           : 300
Name of venue   : St. Albert Grain Elevator Park
Website             : http://museeheritage.ca/heritage-sites/private-functions/
Phone number   : 780.459.1528
E-mail address   : museum@artsandheritage.ca
Capacity           : 300-400
Name of venue   : The Country Lodge
Website                : http://www.countrylodge.ca/home.aspx
Phone number   : 780.475.9366
E-mail address   : manager.pvs@shaw.ca
Capacity : 350
Name of venue   : The Oasis Centre – Corporate & Social Event Venue
Website             : http://oasiscentre.com/
Phone number   : 780.451.9227
E-mail address   : weddings@oasiscentre.com
Capacity           : TBD
Name of venue   : Ellerslie Rugby Park
Website             : http://www.edmontonrugby.com/rentals
Phone number   : 780.988.5245
E-mail address   : erp@edmontonrugby.com
Capacity             : TBD
Name of venue   : Greystone Gardens
Website               : http://www.greystonegardensbedandbreakfast.com/wddngs.htm
Phone number   : 780.987.3810
E-mail address   : N/A
Capacity           : TBD
Name of venue   :Museum Village Site Buildings & Grounds
Website              : http://www.fortsask.ca/residents/recreation/facility-rentals-bookings
Phone number   : 780.992.6266
E-mail address   : bookings@fortsask.ca
Capacity            : Large outdoor gazebo